Karrin performs her original song, SHAKE IT UP with the University of Nebraska at Omaha Jazz Band. Arrangement by Darrin Pettit. Video by Jim O'Keefe, JPOPhotoVideo.
Still enjoying my position at UHartt, and happy to announce I have accepted another position at William Patterson University for the Fall Semester!
Jazz Ed: Masterclasses & Teaching
Karrin feels passionate about sharing this music. She has given countless masterclasses, clinics and private lessons.
» Karrin's TEDxUMKC talk – "Live an artful life".
For more specific info on private lessons and costs please contact us. For group masterclasses already scheduled, please see TourDates page.
Most recent jazz education sessions include:

Miami Young Artists
The New School
NOHO MA
University of Nebraska at Omaha – Masterclass/Workshops/
Concerts
– Omaha, NE
McNally-Smith College; St Paul MN – Masterclass
Woodstock VT Interplay Jazz, faculty
Vermont Jazz Center, faculty
North High School, Master Class, Omaha, NE
SOKA University, Aliso Viejo, CA
SUNY Purchase Jazz Studies Master Class Series – Purchase, NY

University of Miami – Miami, FL

Berklee College of Music – Boston, MA

Berkeley School of Music – Berkeley, CA

Bastyr University – Seattle, WA
The Seasons Festival – Yakima, WA
New York City – Private and Masterclasses
Bowling Green – Bowling Green, OH

Drake University – Des Moines, IA

University of Nebraska – Omaha, NE *Where she also serves as esteemed alumni

Interplay Jazz Camp – Vermont

Rocky Mountain Vocal Camp – Colorado

George Washington University – Washington D.C.

Temple University – Philadelphia, PA. (Where Karrin was also given a Jazz Masters Award)
Description:
Masterclasses/clinics can either consist of Ms. Allyson alone with students, or with her band (who are also accomplished teachers) demonstrating, and listening to students (singers and instrumentalists) either one on one, or as ensembles.
1. Choosing repertoire
2. Choosing keys
3. Conceiving, executing an arrangement
4. Interpretation
5. How to build a band and lead it
6. How to sing a standard 5 different ways
Aside from Karrin's masterclasses, some workshops will focus on finding one's own original path to making music.
It's long been said that "necessity is the mother of invention" and the act of creativity is no exception—
We use; who we are, our own history, our own cultural background, our own physicality, who did you grow up listening to? Who do you listen to now?
Do you play any instrument? (besides voice)  If so, how might you incorporate that with your presentation in an honest and musical way?
What's been your experience in performing up til now? How can you use that to move forward?
Make no mistake, it's crucial to acquire basic musical knowledge … and this can be fun !
Start with the Circle of Fifths… what makes certain keys better than others and for what purpose?
In short, come as you are…. willing to be who YOU are through MUSIC.
__________________________________________________
The Village Voice — Gary Giddins
"Allyson coolly stakes her claim. She brings a timbre that is part ice and part grain — incisive, original, and emotionally convincing."
The New York Times — Stephen Holden 
"Sweet Core, Steely Edge" Karrin Allyson at Birdland

 "There are so many ways to savor Karrin Allyson's artistry. Start with her voice, its rare clarity and resonant timbre….Everything she sings seems to rise from a smile."
Downbeat — Bob Doerschuk 
"Since her debut with Concord Records, Karrin Allyson has won hearts and fans around the world for her intimate and powerful music making. A singer, pianist and songwriter with midwestern roots, Karrin signed a contract with Concord Records in 1992.  Karrin's association with Concord produced a series of thirteen top-rated records —five Grammy nominations among them. For ten years, she worked with her Kansas City based all-stars, touring all over the US as well as Europe, Japan and Brazil. In 2000, Karrin moved to New York City and continued to record with old friends and new, producing powerful recordings with Mulgrew Miller, Peter Washington, Steve Wilson, Gil Goldstein and Steve Nelson."
Along with performing hundreds of concerts in Europe and Brazil, across the US and Canada, Karrin drew together the great duo of Kenny Barron and John Patitucci to join her in creating "Many A New Day," a Grammy-nominated tribute to Rodgers and Hammerstein, released on Motema Records. 
 Among other engagements, Karrin highlighted the "Newport Jazz Festival: Now 60" tour, opening in New York, Philadelphia, Pittsburgh, Chicago, and L.A.'s Disney Hall, The second leg of the tour featured two performances in Canada: Festival International de Jazz de Montreal, the Ottawa International Jazz Festival, followed by the Rochester Jazz Festival and Freihofer Jazz Festival in Saratoga Springs, before performing at the Newport Festival in July.
L.A Times — Don Heckman's review of the Disney Hall performance. "Live Jazz: The 60th Anniversary of Jazz at Massey Hall and the Newport Jazz Festival at Disney Hall"
"A pair of memorable jazz celebrations filled Disney Hall Saturday night with an enthusiastic crowd of listeners. Both segments of the performance were dedicated to 60th anniversaries.

The second half of the bill celebrated the 60th anniversary of the start of the Newport Jazz Festival. This ensemble, with saxophonist/clarinetist Anat Cohen serving as musical director, offered an equally appealing array of players: Cohen, pianist Peter Martin, trumpeter Randy Brecker, singer Karrin Allyson, guitarist Mark Whitfield, bassist Ben Allison and drummer Clarence Penn.

As the program continued, a different musical direction took over, guided imaginatively by the two women in the ensemble: Cohen and Allyson. Always as improvisationally expansive as an instrumentalist, Allyson was at her best in a performance of "'Round Midnight" that showcased the full range of her expressive powers. 

The highlight of the set, however, as well as the entire evening, was a reading of "La Vie En Rose" featuring Allyson's lush-toned voice in tandem with the emotionally rich clarinet of Cohen. Singing and playing with expansive creative intensity, often moving with the subtle gestures of dancers, both brought a rarely heard feminine jazz expressiveness to the French classic — and the balance of the program."

Recently Karrin produced a highly regarded album of original songs —
"Some of that Sunshine". This self-produced effort has added significantly to her reputation as a complete musician.

Another favorite project is the album, "Shoulder to Shoulder, a Centennial Celebration of Women's Suffrage." This project was performed at Sony Hall in New York with a sensational band of Karrin's colleagues, including Regina Carter, Ingrid Jensen, Helen Sung, Endea Owens and Allison Miller. Vocalists Kurt Elling and Madelyn Peroux added star turns and Harry Belafonte and Roseanne Cash joined the celebrants.

Andrew Gilbert wrote in Jazz Times:
"The album concludes with Allyson's two original contributions, and they offer a glimpse at what could have been. "Way Down Below" is a rousing plea for sisterhood and uplift featuring some sterling violin work by Regina Carter. And the hip-hop-steeped "Big Discount" offers a trenchant protest against the wage gap and sexism with some pointed rapping by Rapsody. These songs combine a message with melodies that welcome a return visit."
 Karrin Allyson is also a respected and very much in demand teacher, working with singers from London to Tokyo and has recently taken on a new roll — Jazz Vocal Instructor at the Hartt School of Music in Hartford, joining a outstanding faculty headed by Javon Jackson.
 In recognition of Karrin Allyson's life in music and her long association with the University of Nebraska at Omaha, Karrin's alma mater, is presenting Karrin with an honorary Doctorate of Music in the fall of 2022. 
In a recent extension of her wide-ranging love of many styles of music, Karrin enlisted her partner, Bill McGlaughlin, widely known as a conductor, composer and long time Public Radio music host in the creation of a new radio program: The B&K Cafe, which invites listeners into their living room monthly in a program of music and intimate conversation. The B&K Cafe has been broadcast since its inception in summer of 2000 over award-winning WWFM, and the full archive of all the programs are available online at WWFM.org.
 With fifteen albums released so far, and more exciting projects in the works, this five-time Grammy nominated artist's range and creativity seems to have no bounds. What unites this wide world of music is Allyson's warmth and depth. She's not just singing a lyric, she's telling you her story. And then that becomes a part of your story. You hear the music from the inside out.
*NEW!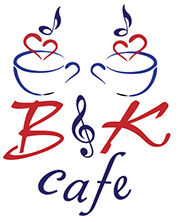 Karrin Allyson & Bill McGlaughlin Team Up For Radio!
There have been many daring duos in the world — 
Now add to that list  Bill McGlaughlin and Karrin Allyson! Together and apart, they've traveled and performed all over the world… met and worked with many of the greatest musicians on the planet and love to talk about Music and Life.  The B&K Cafe is just that, but now on the radio with you joining the duo over coffee.
Bill is (mostly) a classical musician, who served as a trombonist with the the Philadelphia Orchestra and Pittsburgh Symphony, then turned to conducting with a variety of orchestras, from the St. Paul Chamber Orchestra to the Kansas City Symphony. Along the way, he added broadcasting and has served as host of the Peabody Award winning St. Paul Sunday and of Exploring Music with Bill McGlaughlin from WFMT in Chicago, a post he has held since 2003. In addition his work as a composer has been heard widely, around the US and as far as the Royal Philharmonic in London. 
Karrin is an internationally acclaimed singer, pianist, composer, teacher, and bandleader with 15 CD's and 5 Grammy Nominations. She is noted for her warm and exciting sound, and large breadth of repertoire, which embraces The Great American Songbook, Brazilian Bossa Nova, French Chansons, the great classic composers, as well as writing her own songs which are featured on "Some of That Sunshine" … Most recently  Karrin headlined "Shoulder to Shoulder; Centennial Tribute to Women's Suffrage" featuring songs of the Suffragist Era and two of her originals.

Come join us on New Jersey Public Radio starting July 17 @ 8PM EST for a fun show filled with  Music and conversation.
Learn all about their POPS CONCERTS, and listen to samples:
Booking:
Cynthia Herbst
American International Artists
Tel: 518-686-0972, Ext. 202
email: Cynthia@aiArtists.com
web: www.aiartists.com
Testimonials:
"Whether in master classes, group workshops, or private lessons, learning from Karrin is a joy and a revelation. She meets you where you are, musically, and her superb teaching, high expectations, and sense of humor enable you to accomplish more than you could have imagined. Taking lessons with Karrin is one of my life's greatest pleasures!" – Susan Brison
"Karrin has a no nonsense approach to teaching but also with gentle instruction. This is a great combination of taking us students seriously and guiding us to better performances. A wonderful way to learn!" – Rosemary Miller
"Karrin is a very warm, compassionate teacher. Her teaching is effective and she always gives me valuable input." – Hiroko Kanna
"I am learning how to communicate with my band mates on stage – she's teaching me how to lead my band. I feel her love of the music through her teaching- that's why I like to spend time with Karrin!" – Asako Takasaki