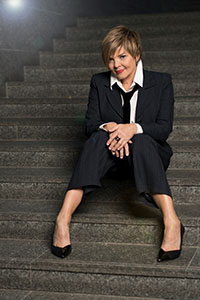 Representation:
Cynthia B. Herbst,
PresidentAmerican International Artists, Inc.
www.aiArtists.com
Cell: 518.469.2151
__________________________
All studio photos © Jim O'Keefe / jpophotovideo.com
Live photo ©Lee Everett
Live photo ©Philip Friedman
Stylist: Vanessa Campan Thornburg
Hair/Makeup Omar Rodriguez
Questions? Email:  info@karrin.com
JAZZ AROUND TOWN
by
Scott
Yanow
KARRIN ALLYSON
            Because she has been so consistent ever since her first recording in 1993, it is easy to take Karrin Allyson's talents as a jazz singer for granted. 30 years later, she is still one of the very best on the scene, displaying a warm voice, the ability to sing credibly in several languages, scatting with the best, and also offering touching interpretations of ballads.
            At Catalina Bar & Grill, Ms. Alyson was joined by the brilliant pianist Miro Sprague, the underrated but skilled bassist Bob Bowman, and drummer Dan Schnelle. The wide-ranging repertoire included the 1950s bop classic "Social Call," "Blackbird" (strange how this has become the #1 Beatles song interpreted by jazz artists), some Jobim, Mose Allison's "Stop This World," a heartbreaking version of Irving Berlin's "What'll I Do," the funky and philosophical "Way Down Low," the joyful "Grab Up Some Of That Sunshine," a vocal-bass duet with Bowman on "If I Should Lose You," and an adventurous rendition of "Moanin',"
            Allyson, who always pays attention to giving listeners a variety of tempos, moods, styles, and emotions, was heard throughout the night in prime form. In addition, her rhythm section was alert, intuitive and added a great deal to her music. See Karrin Allyson whenever you want to experience the music of a jazz master.
_________________________________________________________
SHOULDER TO SHOULDER:
CENTENNIAL TRIBUTE TO WOMEN'S SUFFRAGE

By Karrin Allyson Sextet
Physical Copies are now available now on Amazon
Willard Jenkins piece on Shoulder to Shoulder
________________________________________________________
Female focus // Shoulder to Shoulder:
CENTENNIAL TRIBUTE TO WOMEN'S SUFFRAGE

"Karrin Allyson's distinctive voice, without calling attention to itself, stands out among high voltage company, also redolent with a recognizable determined attitude that is an engine for this unique undertaking. A nod to rap done by the female performer known as Rapsody adds another modern spin to the wrap-up of the Allyson original "Big Discount" that slyly references the gender wage gap. This centennial consciousness-raiser gets my enthusiastic "yes" vote."
____________________________________________________________________________________
Review by George W. Harris from Jazzweekly.com
IT GETS MY VOTE…Karrin Allyson Sextet: Shoulder To Shoulder

"While many of the songs are reflective of the ragtime era of the social change, the team of Ingrid Jensen/tp, Mindi Abair/as, Helen Sung/p, Endea Owens/b, Allison Miller/dr and guests like Kait Dunton/org are able to mix strings to hip jazz as on the thriving "Columbia's Daughters" with Allyson in rich tone and delivery. Vaudevillian pre-jazz supports Veronica Swift on "Anti Suffrage Rose" while modal and free spirited modern grooves pulsate across on "I'll Be No Submissive Wife." Readings of anti-voting petitions by Kurt Elling or pro-suffrage Frederick Douglas by Belafonte put the movement in perspective, while Lalah Hathaway's "Sojourner Truth" speech  and Rosanne Cash's reflections by Susan B. Anthony being quite poignant."
_________________________________________________________________