B&K Cafe dates: 12/18, 1/15, 2/12, 3/12  at 6PMEST  
wwfm.org
*Holidays are coming … need the perfect gift? Get your "Yuletide Hideaway" or any other Karrin Allyson records Thank you !!
Thought about singing? Join us for our 12/20 Masterclass and the Vocal jam 12/27 at Jazzvoice.com
*How I Fell in Love with Jazz Contest (I'm one of the judges) The new contest submission end date is Nov 21 with public voting ending on Nov 28 —
Hello Friends, Music Lovers and Fellow-Voters !
Please join us for our long-awaited live-streamed performance of Shoulder to Shoulder; Centennial Tribute to Women's Suffrage with the Karrin Allyson Sextet @ SONY HALL in NYC !!
Featuring the best in the biz and the original cast: Regina Carter, Ingrid Jensen, Helen Sung, Endea Owens and Allison Miller.
With special guests: Paul Frazier and Bill McGlaughlin.
We will perform the entire project with the very cool arrangements by John Daversa, and also the speeches — read by us — the band !
Our special guest Paul will be singing the part of "Joe" on Winning the Vote, reading the Frederick Douglass speech, and adding his unique voice to other areas of the project. Bill will be reading the part of Elihu Root — in his inimitable style —
We can't wait to play together, for YOU, and to share this very important and timely message through music.
October 4 @ 8PM EST
VISIT: https://tkts.to/e/karrin-allyson-sextet/tag/x-sr-72419302to get link on the night of the show.
$25.00 for show
$50.00 for show and Meet and Greet w Karrin Allyson post-show
Check out Downbeat Blindfold test w KA December issue
downbeat.com
A State-by-State Guide to Voting
https://www.mymove.com/moving/guides/voter-registration-by-state/
Dear Friends,
Our every day lives demand creative ways to deal with adversity— and beauty, the Yin and Yang—of course not just for artists but everyone on this beautiful Planet. Here's hoping and working for a more equitable and creative society for All —
The creative process as we live day to day is truly a wondrous thing, very mysterious, and sometimes of course very frustrating ! But learning new things as we go, can be a good thing. Since COVID, Life has been even more of a roller coaster — but I've had some very gratifying experiences, here are a few:
My partner and sweetie of many years Bill McGlaughlin and I have a new radio show! It's called the "B&K Cafe" — where we sit across the table from each other in our living room and talk about Music and Life — our experiences with different artists — favorite renditions of classical pieces, jazz, pop, whatever. It premiers July 17 @ 8PMEST on WWFM The Classical Network!
In addition to my own private teaching, I'm now on the roster of Jazz Voice created by singer and teacher Alexis Cole— check it out here: jazzvoice.com
I'm happy to be giving an Online Masterclass on July 18, at 3pm at jazzvoice.com. Book now to experience a special performance, get involved as I talk about my approach, and be one of the workshopped singers! It's sure to be a memorable time. You will receive a Zoom link 1 hour before the class, so book now!
My friend & singer & teacher Janet Planet called me up and said "I have some students and friends in my area of Wisconsin who'd love to meet you — over Zoom". Janet has started to create a series called "Backstage Pass" where folks send in questions they may have to the artist and even request a song or two. It's small (about 10-12 people) so quite manageable and we had a lot of FUN! Thank you Janet. Here's her website: janetplanet.com. It's a fantastic resource for singers, or anyone who's interested in 'our' process —
Join bassist Marty Jaffe and myself this Saturday, July 11th for a Livestream performance hosted by Jazz Forum. Respond to the Facebook event here.
Nevertheless, We Progress!
Celebrating One Hundred Years of Women's Rights
In so many ways, we have changed and yet have not. Join us in celebrating together our challenges and triumphs.
Women suffragists had to struggle through the 1918 flu pandemic yet still managed to persevere and get the 19th amendment passed. Our celebration of the 19th Amendment Centennial will go on, but adapted to protect our safety during the Covid-19 pandemic.
"Nevertheless We Progress" will be a high-energy virtual celebration including local voices sharing suffragist history, vibrant music by well-known musicians, and valuable information on how and why to vote.
Join us for this exciting virtual event to celebrate women's rights,  launching on the 19th Amendment Centennial Facebook page on Women's Equality Day, Wednesday, August 26, the day the 19th Amendment was certified in the US Constitution.
Yes, the video is scheduled to launch on August 26 at 4:30 p.m. on the coalition Facebook page: Fox Valley 19th Amendment Centennial Celebration.
Black Lives Matter;  People are PEOPLE— let's treat everyone with RESPECT — do unto others.
__________________________________________________________________________________
ONLINE / ZOOM LESSONS with Karrin!

I am teaching lessons on line – please write if you are interested… info@karrin.com and to my "Teach" page for more info. It's fun! And we have ways of making it work for you.

Any purchase of Artist's physical CD's and/or downloads REALLY help at this time — we thank you in advance for your support of the Music.

To see live dates that have been moved, please go to tour page.


Stay strong and keep healthy!
With Love,
Karrin
Karrin's latest projects –
SHOULDER TO SHOULDER:
CENTENNIAL TRIBUTE TO WOMEN'S SUFFRAGE

By Karrin Allyson Sextet
Physical Copies are now available now on Amazon
                                                                             ________________________________________________________
Female focus // Shoulder to Shoulder:
CENTENNIAL TRIBUTE TO WOMEN'S SUFFRAGE

"Karrin Allyson's distinctive voice, without calling attention to itself, stands out among high voltage company, also redolent with a recognizable determined attitude that is an engine for this unique undertaking. A nod to rap done by the female performer known as Rapsody adds another modern spin to the wrap-up of the Allyson original "Big Discount" that slyly references the gender wage gap. This centennial consciousness-raiser gets my enthusiastic "yes" vote."
____________________________________________________________________________________
Review by George W. Harris from Jazzweekly.com
IT GETS MY VOTE…Karrin Allyson Sextet: Shoulder To Shoulder

"While many of the songs are reflective of the ragtime era of the social change, the team of Ingrid Jensen/tp, Mindi Abair/as, Helen Sung/p, Endea Owens/b, Allison Miller/dr and guests like Kait Dunton/org are able to mix strings to hip jazz as on the thriving "Columbia's Daughters" with Allyson in rich tone and delivery. Vaudevillian pre-jazz supports Veronica Swift on "Anti Suffrage Rose" while modal and free spirited modern grooves pulsate across on "I'll Be No Submissive Wife." Readings of anti-voting petitions by Kurt Elling or pro-suffrage Frederick Douglas by Belafonte put the movement in perspective, while Lalah Hathaway's "Sojourner Truth" speech  and Rosanne Cash's reflections by Susan B. Anthony being quite poignant."
____________________________________________________________________________________
Billboard exclusive story (here)
_________________________
 SOME OF THAT SUNSHINE
Karrin's first all-original album available on iTunes, Amazon, CDBaby
Even those casually familiar with vocalist and pianist Karrin Allyson's 26-year recording career surely appreciate her tremendous versatility, exploring everything from French chansons to Brazilian jazz, from blues to pop, from Coltrane to Rodgers and Hammerstein with unerring panache. With Some of That Sunshine, Allyson unleashes her equally impressive dexterity as a songwriter. Sharing keyboard duties with Miro Sprague and Chris Caswell (also the disc's producer), alongside bassist Jeff Johnson and drummer Jerome Jennings, she fills the album with 13 finely crafted originals that variously suggest the spiritedness of Carole King, the perspicacity of Paul Simon, the warmth of Irving Berlin, and the bite of Bob Dorough or Dave Frishberg.

Allyson and company travel a serpentine route, venturing from the philosophical optimism of the title track, featuring violinist Regina Carter, to the funkified heartbreak of "Wish You Were Mine," gentle caress of "As Long As I Know You Love Me," and, with its softly powerful examination of a long-term relationship's splintering, the sorrowfully reflective "Happy Now." Saxophonist Houston Person steps in to help define the romantic disillusion of "Just as Well" and the love-the-one-you're-with verve of "Right Here, Right Now." Bass legend Lee Sklar drives the darkly disenchanted "One of These Days." Allyson adds dual perspectives on social change, first with "Shake It Up," a rousing ode to stepping forward and, with Carter, the closing "Big Discount" a stirring rallying cry that encompasses pay equity, shattering glass ceilings, and the #MeToo movement.
FOUR-STAR DOWNBEAT REVIEW/EXPANSIVE INTERVIEW IN M MUSIC & MUSICIANS MAGAZINE, AS FIVE-TIME GRAMMY NOMINEE KARRIN ALLYSON CELEBRATES RELEASE OF NEW ALBUM OF ORIGINAL MUSIC, "SOME OF THAT SUNSHINE"  Jazz Times, Jazziz, M Mag Run Exclusive Song Premieres U.S. Tour Extended

DownBeat Magazine – ****Four-star album review By Bob Doerschuk, 9/18 print edition:

There are so many ways to savor Karrin Allyson's artistry. Start with her voice, its rare clarity and resonant timbre. She phrases impeccably, staying close to the melody, except on the occasional scat chorus. Everything she sings seems to rise from a smile. The flip side is that , more than most of peers, she shies away from any blues influence. Here and there she'll adorn the melody with a flat-third filigree, though more as a sprinkle of spice than a fundament of her style. These qualities make every moment on Some Of That Sunshine unmistakably Allyson. As does her writing. Each track is concise, built on an unvarying verse/chorus/bridge structure, her band providing perfect support. The solos are not about stretching out; their purpose is to frame the lyric and bring ou the luster in Allyson's performance. Houston Person does this by complementing her nearly transparent purity with his smoky tenor on "Just As Well." In contrast, violinist Regina Carter mirrors Allyson's playful feel on the title cut by plucking the first verse of her solo. Allyson keeps this same focus through the last two songs on the album. From its first few notes, "You Don't Care" surprises with its old-school country vibe and compositional simplicity. It's easy to imagine it being played on the Grand Ole Opry stage- not today, but maybe 50 years ago. And the #metoo message of "Big Discount" couldn't be more timely, though even here Allyson maintains her tuneful vibe.

JAZZ TIMES EXCLUSIVELY PREMIERED THE SONG "JUST AS WELL" Listen to it here:

On her new album, Some of That Sunshine, to be released by her own label Kasrecords on Aug. 3, singer Karrin Allyson unveils a skill that many of her listeners may believe is new for her: songwriting. But it turns out that she was already engaged in tunesmithery well before the release of her debut album in 1992—she's just never presented her work to the public in this way before. "As a young musician I was writing songs in a variety of styles," Allyson says, "even before I discovered jazz. I loved the singer/songwriters of my youth and I followed their influence. Now, after years of performing all sorts of jazz and Brazilian and French music, I'm coming back to where I started." JazzTimes is pleased to premiere one of Some of That Sunshine's 13 original tracks, "Just as Well," which shows that Allyson is as talented at writing a classic-sounding ballad as she is at vocally delivering one.

M Music & Musicians Magazine – Expansive Interview with the Publisher, plus Exclusive Song Premiere of 'Nobody Said Love Was Easy'. By Merlin David, 8/2018 Read the full feature and listen to the song, here:

JAZZIZ EXCLUSIVELY PREMIERED "SHAKE IT UP" Listen to it here: 

New York City Jazz Record:

Five-time Grammy nominee Karrin Allyson, best known for her husky voice and versatility as a singer, has released her first album of originals, Some Of That Sunshine (Kasrecords). Allyson the songwriter, true to form, moves blithely from one feel to another, be it a blues ("Nobody Said Love Was Easy"), a swing ("Some Of That Sunshine"), or a pop tune ("As Long As I Know You Love Me"). A welcome next step for this enticing musician.
 RADIO MOVES

26* to 6* to 6* to 2* to 2* to 2* to 5 to 4* JazzWeek!!

26* to 25* to 10* to 9* to 6* to 10 to 6* to 13 NACC College Jazz Top-30

2 Adds:

| | | | |
| --- | --- | --- | --- |
| MI | YPSILANTI | WEMU | A |
| NY | GARDEN CITY | WHPC | A |

TV Appearances

Sacramento

CBS-TV's Good Day Sacramento

 8:45AM PST

Rochester NY ABC/FOX TV Rochester  Morning Show 
From GinaLovesJazz / Germany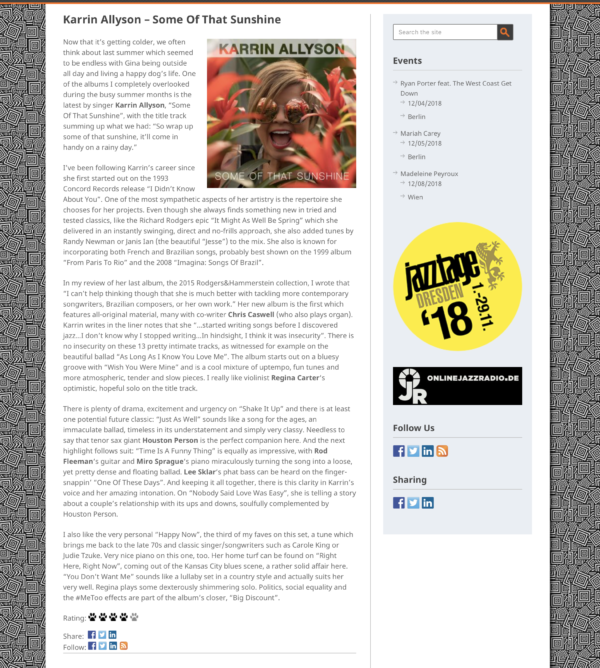 "13 finely crafted originals that variously suggest the spiritedness of Carole King, the perspicacity of Paul Simon, the warmth of Irving Berlin, and the bite of Bob Dorough or Dave Frishberg." – Jazz Times, Editor's Pick
"Rare clarity and resonant timbre" – Downbeat
"Everything she sings seems to rise from a smile" – Downbeat